The Interment of Rhett Wayne Lewis and
Michael Allen Martin
Arlington National Cemetery
April 8, 2010
---
Thanks to Diane & Jim Pressman
and Nate Shaffer for the photos and
Mark Hilton for the memorial.
---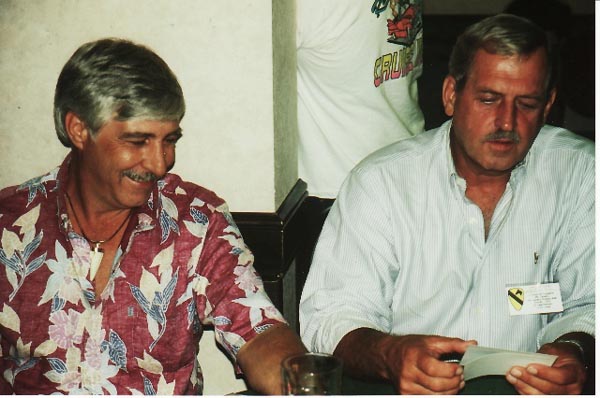 1995




The smartly dressed military men stepped with precision as they approached the horse drawn caisson. With the Military band softly playing in the background, it was with reverence that they removed the flag draped urns. Their white gloved hands snapped the flag into razor sharp edges and then folded it into a perfect triangle. Off in the distance a lone bugle playing TAPS blew a mournful goodbye to two of America's fallen heros, as at 11:00 am and then again at 3:00 pm the urns were slowly lowered into the six foot deep holes.

United States Army pilots from Charlie Troop, 1/9th Cav, 1st Cavalry Division Mike Martin and Rhett Lewis were buried this past Thursday with full military honors in Arlington National Cemetery."

The funerals were attended by Me & Kim, Nate & Tiz Shafer, John & Angie Powell, Al DeMailo, Ed Grutezmacher, Jim Pressman, Felix Poindexterand his daughter and many others. Cav Hats were abundant as were the tears unabashedly shed by men and women alike.

The reception later that day was held by the families of the two men at the Sheraton Hotel. It was a chance to renew old friendships and to quietly say goodbye to Mike and Rhett. Bob Tredway and Galen Rosher were both mentioned as former commanders of these two men and both were missed... Bob for obvious reasons and Galen for his repeat hip surgery earlier in the week. At the reception we heard stories about the two men but these stories could have been about any of us and as a result brought a new round of tears and old memories.

As the reception drew to a close that evening and I prepared to return to my own home I looked around and saw that I was surrounded by my family and by my friends. I was struck by the fact that 40 years is really but a single moment!

May you all be at peace! I carry you in my thoughts and in my heart!