News & Views

Bruce DeHart
Bruce DeHart
August 27, 2009

Sergeant First Class Bruce A. DeHart, Jr., U.S. Army retired with over 20 years of service, 68, of Millsboro, DE and formerly of Hummelstown, PA passed away at the Delaware Hospice in Milford, DE after a valiant battle with cancer. Mr. DeHart served with the 1/9th Air Calvary Division in Vietnam from 1965 to 1966. He was the recipient of the Army Meritorious Service Medal and the Air Medal with the V distinguishing device for Valor and the numeral 12 to designate twelve awards . Mr. DeHart was employed with GPU and True Temper Tools after his retirement.

Mr. DeHart is survived by his loving wife Elizabeth and her three children Rose Anne Bennett of Hummelstown, PA, Ted Dankanich of Elizabethtown, PA and Michael Dankanich of Lewisberry, PA, his sons Howard of Middletown, PA and Jayme of New Cumberland, PA, daughter Elaine of Wrightsville, PA, mother, Ella Kocevar and sister Donna Dillon of Temple, PA and sister Barbara Easterday of Laureldale, PA and brothers Peter Kocevar of Millsboro, DE and Henry Kocevar of Chesapeake, VA. He is also survived by a large extended family of grandchildren, aunt, uncle, nieces, nephews and cousins as well as a very close knit group of AirCav troopers.

A funeral service will be held Wednesday, September 2nd at 11:00 a.m. at Hoover Funeral Home, Rt. 422 & Lucy Ave, Hershey, PA. 17033, where friends may call after 10:00 a.m. Interment will follow at Indiantown Gap National Veterans Cemetery in Annville.

In lieu of flowers the family suggests memorial contributions in Bruce's memory to Delaware Hospice Center, 100 Patriots Way, Milford, DE. 19963.

Local arrangements by Melson Funeral Services of Millsboro, DE.
Steven C. Karas
Steven C. Karas
December 17, 2008

Steven Clifford Karas, 60, of Soddy-Daisy, died on Wednesday, December 17, 2008 at a local hospital.

Mr. Karas was a 1966 graduate of Brainerd High School. He entered the Army in 1967 and served his Country until 1971. He went to Helicopter Pilot School at Hunter AAF, Ga., from 1969 -1970. He served as a combat pilot in Vietnam where he flew search and rescue missions and transported troops to and from combat zones. He was awarded the Distinguished Flying Cross, Valorous Unit Award, Air Medal, and Bronze Star.

After his military service he entered the Chattanooga Police Department in 1972. During his tenure with the Police Department he flew one of the first helicopters the city had in service. He retired from the Police Department in 1998 and started a second career with the Tennessee Department of Transportation and continued to work there until his time of death.

He also served as an instructor pilot in the Tennessee National Guard 278th ACR from 1986-1993.

He was preceded in death by his grandparents, Caroline and Frank Karas; Fern and Eugene Mathis; and father, Donald Larry Karas.

Survivors include his two sons, Dustin Karas, Kevin Karas; daughter-in-law, Stacy Karas; mother, Robertine Vorwerk; stepfather, Richard Vorwerk; sister, Cathy Faulkner; brother-in-law, Pete Faulkner; nephew, Eric Faulkner, and Janet Karas.

Funeral services will be held at 11 a.m. on Monday, at the North Chapel with Pastor Seton Tomyn officiating.

Interment will follow at Chattanooga National Cemetery with military honors.

The family will receive friends for visitation from 4-7 p.m. on Sunday, and from 10 a.m. until the time of the service on Monday at the North Chapel.

Please share your thoughts and memories at Mem.com.

In lieu of flowers, the family requests donations in memory of Mr. Karas to the Chattanooga-Hamilton County Animal Shelter.

Arrangements are made by the North Chapel of Chattanooga Funeral Home Crematory and Florist, 5401 Highway 153, Hixson, Tn. 37343.

Raymond A. Kerns Jr.
August 1, 2009



CW4 Raymond A. Kerns Jr., Retired United States Army, 68, of Lillington, North Carolina, died Saturday, August 1, 2009, at E. Carlton Powell Hospice Center in Lillington.

A native of Virginia, he was the son of the late Raymond A. Sr. and Mildred Burner Kerns. Mr. Kerns holds an associate degree from Troy State University. He was retired from the United States Army as a Chief Warrant Officer. While in the service, he served in both the 82nd and the 101st, 173rd Airborne Divisions as a paratrooper in the First Calvary as a combat helicopter pilot. He was awarded many medals, including the Distinguished Service Cross, The Republic of Vietnam Gallantry Cross w/ Palm (four awards), two Bronze Stars, two Purple Hearts, and the United States Army Commendation Medal.

He was preceded in death by his son, Troy Andrew Kerns.

A memorial service with military honors will be held 11 a.m. Thursday, August 6, 2009, at Cape Fear Presbyterian Church in Lillington.

Memorials may be made to American Cancer Society, 8300 Health Park, Suite 10, Raleigh, NC 27615 or the E. Carlton Powell Hospice Center, 185 Pine State Street, Lillington, NC 27546

He is survived by his wife of 49 years, Anna Garrison Kerns of the home; brothers, Dale B. Kerns and his wife, Linda, of Rhoadesville, Virginia, Franklin Theodore "Ted" Kerns of Charlottesville, Virginia, Owen Kerns and his wife, Janice, of Barboursville, Virginia; two granddaughters, Priscilla Kerns and Isabelle Saul.

Sign the guestbook here:




Robert N. Tredway RIP
ROBERT N. TREDWAY
Cavalier 6

Robert N. Tredway, 73, a retired Army colonel who served with the President's Emergency Mobilization Planning Board, died March 10 at Georgetown University Hospital of pulmonary fibrosis. He was a resident of the District.

Col. Tredway, who graduated in 1958 from the U.S. Military Academy at West Point, began his Army career as an artillery officer, but for most of his career, he was a helicopter pilot. He served two tours of duty in Vietnam during the Vietnam War.

He loved to fly, his wife said, and in later years, he relied on helicopters to land him on mountaintops and mountaintop glaciers around the world. He made his way down on skis, despite shifting crevasses and fickle weather. An award-winning photographer, he documented those adventures with his camera.

Col. Tredway was awarded the Silver Star in Vietnam in 1969. When his unit came in contact with a large enemy force, he exposed himself to hostile fire by maneuvering his helicopter so that troops could be resupplied with ammunition. He also received two awards of the Distinguished Flying Cross, four awards of the Bronze Star Medal and two awards of the Purple Heart.

He also served as a commander and staff officer in Korea.

Col. Tredway received a master's degree in systems development and management from the Florida Institute of Technology in 1974.

During his service with the President's Emergency Mobilization Planning Board, he was the Defense Department representative to the National Security Council interagency task force and was the staff officer responsible for large-scale military exercises.

After his retirement from the military in 1982, he became a principal for SRA International, a consulting and management firm. He served as a project manager for more than 16 years, supporting Joint Chiefs of Staff exercises. He retired a second time in 1999.

Robert Norton Tredway was born in the District. In retirement, he became a licensed Washington tour guide and enjoyed sharing the District's past with tour groups of all ages. He also enjoyed automobiles and completed the Richard Petty racing school. He was a member of Toastmasters International.

He was a founding member of the Combat Helicopter Pilots Association and, more recently, a co-founder with the West Point class of 1958 of the Wounded Warrior program to help soldiers who have been severely wounded. Group members act as surrogate fathers and provide one-on-one mentoring related to education, jobs and benefits.

His marriage to Estelle Tredway ended in divorce.

Survivors include his wife of 26 years, D. Anne Martin of the District; three children from his first marriage, Catherine Goodrum of Warrenton, Valerie Salentine of Bristow and Deborah Fischer of Phoenix; two sisters; and eight grandchildren.

-- Joe Holley
http://www.washingtonpost.com/wp-dyn/content/article/2009/03/28/AR2009032801763.html
Randy Kekar transfers to Fiddlers Green
Take the time to remember Randy's loved ones in your thoughts and prayers.

Kekar, Randall
August 8, 2008
Randall Kekar 57, formerly of Indianapolis went home to be with the Lord on August 5, 2008. He will be loved and missed by everyone that knew him. Randall served in the United States Army during the Vietnam War. He worked for Regal Beloit as a truck driver until his health forced him to retire. Randall is survived by his son, Rodney Kekar; daughters, Holly Kleiber and Amber Osswald; six grandchildren; two brothers, Ralph, and Jerry Kekar and one sister, Shirley Smock. Visitation will he held at Flanner and Buchanan Funeral Center Decatur Township on Sunday, August 10, 2008 from 4 to 8 p.m. Services will be held at 10 a.m. on Monday, August 11, 2008. Burial will follow at Marion National Cemetery in Marion, Indiana.



Fallen Trooper William Clark
It's my unhappy duty to again report a fallen trooper. William 'Bill" Clark passed away 24 January 2008. Please keep his wife Millie and his children (especially his son John who is in Iraq with the 82nd Airborne) in your thoughts and prayers.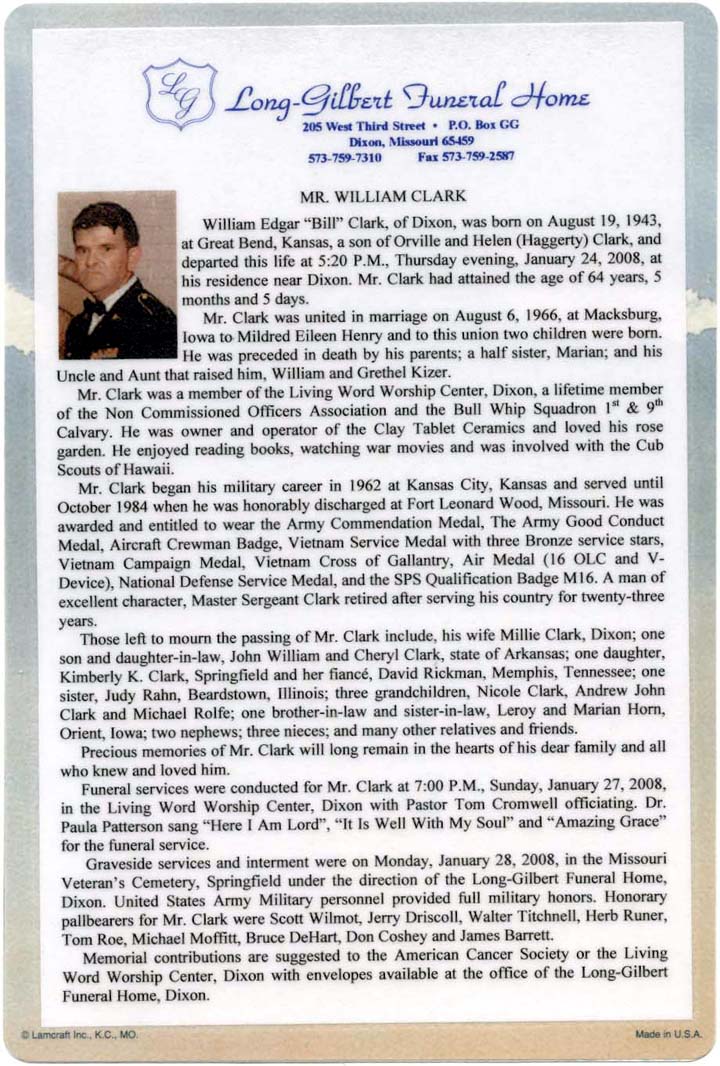 News from Charlie Troop 2007 here.
Robert Bradley RIP
I regret having to tell of another troopers death. Robert M. 'Mike' Bradley died 9 November 2006 in Nashville. Our condolences to his family.
Robert M. Bradley

Published: November 11,2006
Daily News (Bowling Green, KY)

Robert M. "Mike" Bradley, 59, of Bowling Green died Nov. 9,2006, at VA Medical Center in Nashville. The Nashville native was a graduate of the Kentucky School of Mortuary Science and was a fifth-generation funeral director at Gerard-Bradley Funeral Home. He was a member of the U.S. Army, attaining the rank of E4. He was drafted into the Army on Jan. 15, 1968, and returned on July 5,1969. His training included basic training at Fort Campbell, advanced training at Fort Polk, La., and Infantry/Jungle Warfare School. He served in Vietnam with the 1st Air Calvary Division, commencing July 5,1969. His decorations include Combat Infantry Badge, Bronze Star, Bronze Star 1 st and 2nd Oak Leaf Cluster, Purple Heart, Purple Heart 1 st Oak Leaf Cluster, Vietnam Service Medal, Vietnam Campaign Medal, Vietnamese Gallantry Medal, Air Medal, Air Medal I, Good Conduct Medal, Expert Rifle and National Defense Medal. Mr. Bradley attended services at State Street United Methodist Church and was a member of Masonic Lodge No. 73 in Bowling Green. He was a Tennessee Squire, a Kentucky Colonel and a member of Greenwood Optimist Club (coordinator and supporter of the Warren County Cub Scouts Pinewood Derby). He was a life member of the Military Order of the Purple Heart, Veterans of Foreign Wars Post 1298, 1st Calvary Division Association and the National Rifle Association and a member of American Legion Post 0023. He was a son of the late Robert Fenn Taylor, Henry W. "Buck" Bradley and Fannie Sue Thomas Bradley.
Congratulations Graduate
Although the boys didn't see fit to include the grad's photo, here's one of them as they gathered to congratulate Kim Hilton on her graduation Magna cum laude from George Mason University. In psychology I might add...Seems apt.
Ok they got me a picture of Kim, see her below.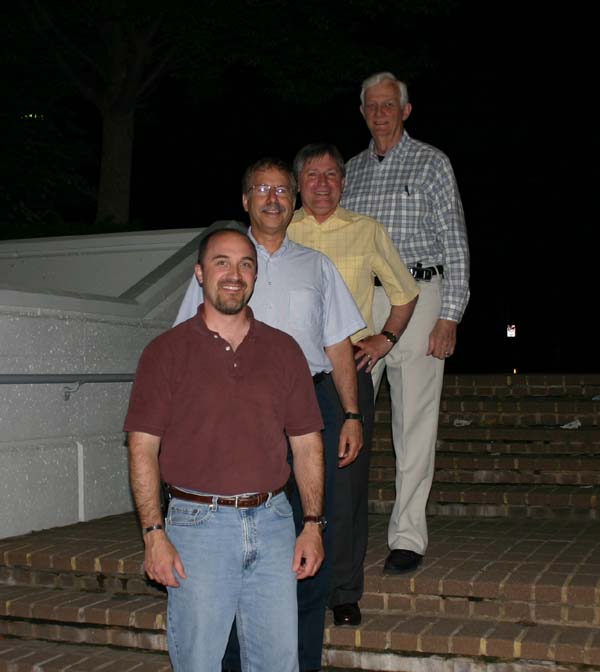 (b.to t.)Lew Robinson, Randy Zahn, Mark Hilton and Bob Tredway

Kim Hilton-College Graduate
Farewell Lee Salazar ('68)
Lee (Red/Lift CE) passed on March 2nd 2006 of a sudden heart attack, please remember his wife Patricia and daughter Katie in your prayers. I encourage you to sign his guestbook.

Leopoldo J. Salazar
Nickname: Lee or Sal
(Note: he hated to be called Leo)

Born: October 30, 1946 in San Salvador, El Salvador
Died: March 2, 2006 in Walnut Creek, CA, age 59
Emigrated to San Francisco, California from El Salvador with parents in 1950 at age 4.
Grew up in San Francisco and attended public schools. Graduated from Lowell High School, S.F. and City College of San Francisco before being drafted into the U.S. Army in 1967 for a two year service.
Served in Vietnam in 1968 as a Crew Chief and Doorgunner on Cobras and Huey helicopters at Dong Ha, Phouc Vinh, Hué, Khe Sanh, the DMZ and numerous other places. Shot down 3 times and wounded. Received Purple Heart, Army Commendation Medal for valor, Army Commendation Medal for meritorious service, Air Medal, Aircraft Crewman's Badge, National Defense Service Medal, Vietnam Campaign Medal and Vietnam Service Medal.
Studied and graduated from Golden Gate University with a Bachelor of Science degree in Transportation (1974) and a Master of Business Administration degree (1976).
Worked for Southern Pacific/Union Pacific Railroad for 30 years, starting as a file clerk and moving up through the Sales and Marketing Department to the position of Managing Director of Fleet/Equipment until the companies merged and moved headquarters to Omaha, Nebraska.
Worked for Unicapital Corp. in San Francisco as Vice President of Fleet.
Retired early on his own resources about 3 years ago.
Married Patricia Martin in 1985 and they have a daughter, Katie who was born in 1989. They have been residents of Walnut Creek for more than 20 years. Leopoldo attended St. John Vianney Catholic Church and Pat and Katie are members of St. Stephen's Episcopal Church in Orinda.
Lee loved hunting and all types of guns, knives and weapons. However, he had not actively hunted in many years, although he retained a passion for it. He was a great fan of a wide variety of sports, but especially enjoyed boxing and football and had good knowledge of both.
He was a devoted husband, father and son and actively encouraged and participated in Katie's school, swimming and other activities. He was a model son and visited his 85 year old mother almost every day and helped in caring for her in every way.
He was very close to his older brother and was his best friend. Their lives were almost parallel in the way they grew up, in their education and in their work.
Lee was a conscientious, loving person who had a great sense of humor and loved to unceasingly tease people. He would take a joke or an incident involving a friend or relative and embellish on it unmercifully. Most people were endeared to him because of this, knowing that his teasing was one of his way of showing his love and regard for the person.
He had lung and kidney problems which were being treated medically and were stablilized. He suffered with overweight problems all of his life and they had been exacerbated because of his other medical conditions. His doctors had not found anything wrong with his heart, and the heart attack that took his life was not expected, but most likely resulted from his other conditions
Philip Norton ('70) passes
Phil died of heart ailments 10/11/05. Please keep Lynnette and the family in your thoughts and prayers. Below is his obituary:
NORTON, PHILLIP R.; age 55, October 11, 2005; of Taylor, MI. For 36 years beloved husband of Lynnette; loving father of Jerry (Kim) and Daniel (Kelly); also survived by three grandchildren Talore, Mariah and Phoenix; one brother Clinton; and one sister Lenore.

He loved serving God as a deacon, and Sunday School teacher in his church. His interests varied from photography to woodworking and cruising in his 1968 Chevelle.

Service was held Saturday (October 15) from Charity Baptist Church in Brownstown, MI. Any monetary contributions can be made to Fort Faith Youth Camp, c/o Charity Baptist Church 17380 Racho Rd. Brownstown, MI 48192. Arrangements by John Molnar Funeral Home, Brownstown Chapel.
May 1, 2005 A newspaper memorial to Kevin Frye KIA
The Jacksonville (FL) Times-Union published a three page article about Kevin Frye (KIA 7/28/70) Read it here.
Steve Hundley's son dies in Iraq
Steve Hundley ('66-'67) lost his son to a roadside bomb in Iraq. Keep Steve and Marianne in your thought and prayers.
CURTIS HUNDLEY

04-27-2005

KERNERSVILLE— Curtis Hundley, 42, of 4413 Kernersville Road, a loving husband to Lisa, a wonderful son, brother and uncle and an American warrior, gave his life in defense of his family and his country on Thursday, April 21, 2005 in Iraq.

A memorial service will be held at 7 p.m. Thursday at Hayworth-Miller Silas Creek Chapel with the Rev. Donald Herb officiating. The family will receive friends at the funeral home following the service.

Born into a military family at Ft Knox, Ky., July 19, 1962, his early years were spent at numerous locations, Kentucky, Kansas, Germany, back to Kansas, California, Texas, Panama Canal and back to Austin, Texas, where he graduated from Crockett High School, in 1980. Curtis was always his own person. As a child, no one could make him eat something he didn't care for. He refused help when learning to ride a bicycle. At the same time, he loved his older brother and younger sister and was a wonderful companion to both. In 1981, he enlisted in the Army, and spent three years as a paratrooper in the 82nd Airborne Division. On one occasion, when asked by the Division Commanding General, what he thought of the training program, Curtis, ornery as ever, said, " I think it's a little boring sir". This drew a loud response from the general, which can be best understood by those who have served in the military. After his military service, he returned to Austin in 1983, and worked in the family Air Conditioning business, until 1985, when he decided to return to North Carolina. In North Carolina, he worked as an iron worker, then an electrician for several garage door companies. His hobbies were scuba diving off of sunken ships, hiking and repelling off of cliffs, participating in competition shooting matches and his Harley. When he met Lisa, she was like a beam of sunlight shining on him and his years with her were the happiest years of his life. Then came 9-11, and soon after, the war on terrorism, Curtis' patriotism, and warrior blood, became a driving force in his life and when given the chance to join Blackwater Security and participate in defending our country, he did so. He said the only down side to being in the war, was being away from Lisa. While in Iraq, he often said that the majority of Iraqi's liked the Americans, and it was just the ones who had been thrown out of power, plus outside terrorists, who were the problem. Then, with six days left on his tour, Curtis gave everything he had to give.

He is survived by his wife, Lisa; mother and father, Marianne and Stephen Hundley; brother Frank and wife Melanie; sister Sheila and husband MSgt Edward Mercado; nieces, Chelsea and Shannon Mercado; uncles, Otto and Walter Wagenhaeuser; and mother and father-in-law Brenda and David Battle; and his many friends.

As a memorial to Curtis, his family requests that when you wake up a free person, living in America, you remember Curtis and the thousands of other brave young Americans who gave you that opportunity.

--Greensboro, N.C. News-Record
Another Trooper transfers to Fiddlers Green
Eldon Delaney Murray (Spc4, CE, 1968) has passed on. We send our condolences to his wife and family. Below is his obituary:
Eldon Delaney Murray, 56, of Bowling Green died at 8:35 a.m. April 23, 2005, at Greenview Regional Hospital.

The Columbia native was a disabled veteran, a member of Disabled American Veterans and American Legion and a Baptist. He was a son of the late Theodore Roosevelt Murray and Plona Lee Gaskin Murray. He was preceded in death by a son, Eldon Vaughn Murray; two brothers, Welby and Lewis Murray; and two sisters, Mary Hazel Murray and Dollie Alexander.

Funeral will be at 11 a.m. Wednesday at J.C. Kirby & Son Funeral Home, Lovers Lane chapel, with burial in Bowling Green Gardens. Visitation will be from 9 a.m. to 11 a.m. Wednesday at the funeral home.

Survivors include his wife, Linda Chambers Murray; a son, Delanie Shawn Murray of New York; two daughters, Angela Renee Brooks and her husband, Eric, and Amanda Rachelle Murray, all of Bowling Green; three brothers, Virl Murray and his wife, Fern, of Columbus, Ohio, Vernon Murray and his wife, Linda, of Morristown, Ind., and Arnold Murray of California; two sisters, Deborah Ridge and her husband, Bill, of Beech Grove, Ind., and Rosetta Hunt and her husband, Bob, of Oklahoma City; four grandchildren, Alexandria, Courtney and Christian McDaniel and Carson Murray; and two stepgrandchildren, Casey and Corey Brooks.
Photographs "Big E" send to us can be viewed here.
We thank you for service, you remain our brother.
Marcella Ann Kink RIP March 5. 2005
The mother of David (KIA) and Julie Kink passed on March fifth. Our deepest condolences go out to the family. Below is her obituary. Included is a means to sign the guest book.
Marcella Ann Kink

Kink, Marcella Ann - Nee Sawyer Our Loving Mom Of Stillwater, MN on March 5, 2005. Preceded in death by son, David. Survived by children, Paul Kink (Diane Thomas-Rupert), Susan Moncada (Pete) and Julie Kink; grandchildren, Heather and Tracy; great-grandchildren, Colin & Hillary. Service 11 AM Wed. at FIRST UNITED METHODIST CHURCH, corner of Greeley & Myrtle Streets, Stillwater, with visitation one hour prior to service at church. Interment Fairview Cemetery. Memorials may be made to Stillwater Public Library Centennial Campaign. Bradshaw 2800 Curve Crest Blvd, Stillwater 651-439-5511.

Published in the Pioneer Press on 3/7/2005.
Offspring Update 2/28/04
Jack Schwarz' son Kevin was married June 26th. Join me in wishing them the best. Please note the Mateus toast (snicker).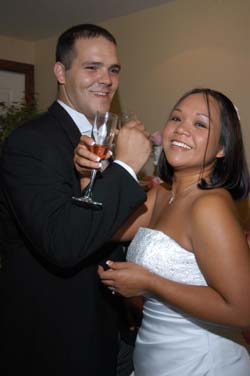 Kevin and Soli Schwarz
Offspring Update 6/11/04
Chuck Frazier's son, Jason, is serving with the Army in Iraq. I think we should all keep Jason, Chuck and Jody in our thoughts and prayers at what we know must be a very difficult time for all of them.
Offspring Update 12/22/03
Babysans son was recently married. Let's wish them all the best.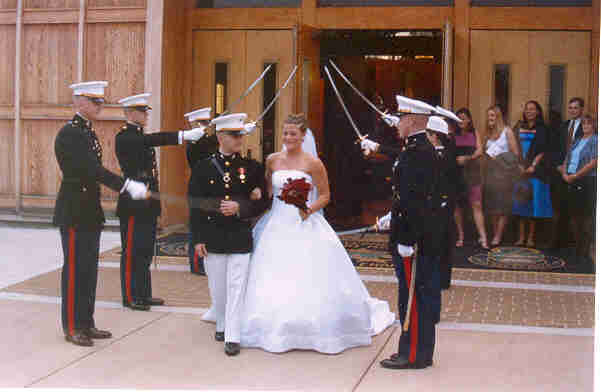 Matt and Sarah (nee Plummer) Hilton
John 'Wiley' Hazelwood Passes 12/21/03
Here is Wileys Obit
http://www.crowderhitecrews.com/obitdisp.php?ObitID=90
I hope you all will send a note to the family and anyone close enough to his services (South Hill, Va.) will so honor him with your attendance.
Jack
Mr. John Wiley Hazlewood

October 15, 1943 - December 21, 2003


John Wiley Hazlewood, 60, of South Hill died December 21, 2003 at his residence. He was the owner/operator of Hazlewood Manufacturing and a U.S. Army Vietnam Helicopter Pilot flying in the 1st Cavalry Division, 9th Cavalry Brigade, 1st Squadron, he was a commissioned Warrant Officer CW2, earning the Distinguished Flying Cross, the Bronze Star, Air Medal with 19 Oak Leaf Clusters, the Vietnam Service Ribbon and numerous other medals.

He was Past Commander of Veterans of Foreign Wars Post Number 7166 South -Lacrosse , a member of the Vietnam Helicopter Pilots Association, American Legion Post 79, South Hill and the South Hill Moose Lodge. He was a regular at the Brian's Restaurant Breakfast Club and a Master Philosopher of Life. He also taught Power Mechanics at Park View High School from 1971- 1977 and was a graduate of the 1962 class of Kenbridge High School and the 1964 class of Danville Technical Institute.. Wiley is survived by his wife Mary Alice Hazlewood, two daughters; Mary Kay Myers and her husband Brad of South Hill and Laura Leigh Hazlewood also of South Hill, a son John Wiley Hazlewood, Jr. and his wife Tammy of South Hill, a brother Cammie Willard Hazlewood of South Hill and two grandchildren Cameron T. and Courtney Hazlewood .

Funeral services will be conducted Tuesday at 2:00 P.M. in Crowder-Hite-Crews Funeral Home with interment in LaCrosse Cemetery with full military honors. The family will receive friends Monday from 7:00 to 8:30 P.M at the funeral home. Memorial contributions may be made to the Southside Rescue Squad, P. O. Box 546, south Hill, Va. 23970.
Yet another Trooper Passes
Robert S. 'Bob' Young passed away September 30th at his home. "Thirsty White" was one of the original group (the 'Boat People') to go over to Vietnam and was involved in the early forging of the troop in the Ia Drang campaign. He went on to be "White" in A Troop 7/17th and retired as a Colonel. Here is his obituary:
Robert "Bob" Young, 63, Clarksville, died Tuesday, Sept. 30, 2003, at his residence.

The funeral will be at 2 p.m. Sunday at Sykes Funeral Home and Crematory, with Chaplain John Allen officiating. The remains will be cremated.

Visitation will be from 4 to 8 p.m. Saturday and from noon until the hour of service Sunday at the funeral home.

He was born Feb. 1, 1940, in Calloway County, Ky., son of Alfred and Jessie Faye Poole Young.

Mr. Young was a retired customer service manager with the Clarksville Gas and Water Department and retired from the U.S. Army.

In addition to his mother of Murray, Ky., survivors include his wife, Lou King Young; three daughters, Donna Kientzler, Dowingtown, Pa., Diana Peake, Hopkinsville, Ky., and Debby Price, Clarksville; a brother, Mark Young, Fort Hood, Texas; a sister, Lea Duncan, Madison, Miss.; and six grandchildren.

Memorial contributions may be made to Cystic Fibrosis Foundation, 6931 Arlington Road, Bethesda, MD 20814, or the Autistic Society of Middle Tennessee, 480 Craighead St., Suite 200, Nashville, TN 37204.
Be at peace trooper, you will be missed. Our prayers go out to your family.
Another Fallen Trooper
It is my sad duty to report the passing of yet another Charlie Trooper. Dick Marshall was the first 'Red' and set the bar high for his successors in the early baptism by fire of the troop in the Ia Drang valley. He died August 20th at home. Here is his obituary:
Richard Hugh "Dick" Marshall PAWLEYS ISLAND, SC (Myrtle Beach)

Retired Lt. Col. Richard ''Dick'' Hugh Marshall, 71, of Pawleys Place, died Wednesday, Aug. 20, 2003, at home.

He was born March 15, 1932, in Mount Vernon, Mo., a son of the late Hugh E. and Irene Marshall.

He was a 1951 graduate of Lower Richland High School in Columbia and a graduate of the Presbyterian College in Clinton. While in high school, he was with the Air National Guard from 1949-1950 and retired from the Army in 1976 serving in the Korean conflict and Vietnam War. In addition to his several awards and citations, he achieved many awards during his service years. He received two silver stars, four bronze stars of valor, 46 Air Medals, two Vietnamese Medals of Gallantry, a residential citation, and Armor Meritorious ribbon and a Distinguished Flying Cross.

He had been a stock broker with Interstate Securities in Charlotte, N.C., a member of Russell and Jeffcoat Realty in Columbia and a partner with Medgley Real Estate in Bennettsville.

He moved to Pawleys Island in 1983, owned the Barony Company and retired in 1995. He was a member of All Saints Episcopal Church, where he had served several terms on the vestry and had started many Bible study classes at the church and in his home.

He was a loving husband, father and grandfather.

He was predeceased by his wife, Saress ''Bunny'' Gregg Marshall; a sister, Betty M. Childress; and half brother, Harry Berry.

Survivors include sons David Hugh Marshall and his wife, Susie, of San Francisco and Richard Gregg Marshall and his wife, Claudia, of Pawleys Island; a daughter, Virginia Postic and her husband, George, of Columbia; grandchildren, Richard H. Marshall III, Elizabeth Walker Marshall, Mary Gregg Marshall, Sarah Odile Postic, Thomas Alexander Postic and Luke Gregg Postic; brother-in-law, Col. Peter Childress of Columbia; and mother-in-law, Saress E. Gregg of Columbia.

Visitation will be from 4 to 6 p.m. Sunday at Goldfinch Funeral Home, beach chapel.

The funeral will be at 11 a.m. Monday at All Saints Episcopal Church. Burial will be in the church cemetery.

Sign the guest book at http://legacy.com/myrtlebeachonline/LegacySubPage2.asp?Page=GuestBook&PersonID=1338355

Memorials may be made to All Saints Episcopal Church, 3560 Kings River Road, Pawleys Island, SC 29585. Published in The Sun News on 8/23/2003.
I'm sure you will join me in extending to Dicks remaining family our deepest condolences and prayers, We Can---We will
Offspring Update
Bernie Parr's ('70-'71) lovely bride Clair sent this about their budding RLO Katie:
I know, I know & you haven't heard from us in such a long time and you were wondering if we'd dropped off the face of the planet. Sure wish we could have been at the last few reunions. I know Bernie misses the camaraderie of his dear friends and I've enjoyed getting to know everyone more each time,,,

Our Katie is now a 17-year old lovely, intelligent young lady, with a very strong sense of right and wrong and she doesn't mind being verbal in expressing those opinions either. The enclosed picture is from her change of command when she became Battalion Commander for the 150-plus cadets in the JROTC at her high school. What a proud moment for Bernie, besides that fact that he was able to fit into his 'blues', but being able to pin that Lt. Col. brass on his daughter.

>snip

Fondly,
Clair
8/18/02 Dave Dzwiglaski (Davski) passes
Yet again we mourn the passing of Charlie Trooper. As many of you knew, Davski fought a valiant fight against cancer but in the end it finally did what the enemy in Vietnam couldn't. Below is the obituary from the local paper and below that are some parting words from a buddy, Tom Criser (Cavalier Blue India, 1969)
David Michael Dzwiglaski, Sr. of Boon died Sunday, Aug. 11, 2002 at his home. He was 53. He was born July 29, 1949 in Delray to Leonard and Margaret (Szulski)Dzwigalski.
On May 5, 1972, he married Mary Elizabeth Bachman in Detroit.Mr.Dzwigalski served his country in the United States Army during the Vietnam War. He was employed as a plumber for many years at Hicks Plumbing and Heating in Manton. He was a member of the American Legion in Cadillac and the First Cavalry Vietnam Helicopter Crew Member Association.
He enjoyed motorcycling, fishing, traveling, woodworking and working on models. Survivors include his wife, Mary, of Boon; children, David Michael (Jill VanBrocklin) Dzwigalski of Tustin and Jennifer (Shawn) Fauble of Grandville; mother, Margaret Gloster of Southgate; siblings, Charles (Debbie) Dzwigalski of Berkley, Kathleen (Michael) Stewart of Wixom, Cecilia Vaught of Lincoln Park and Patty (Nick) Kanas of Wyandotte; granddaughter, Alena Hailie Dzwigalski; and several nieces and nephews.
He was preceded in death by his father. Services are 4 p.m.Wednesday at the Hitesman Funeral Home in Cadillac with Pastor Cliff Burritt officiating. Burial will be in Boon West Side Cemetery. Visitation is 2 to 4 and 6 to 8 p.m. Tuesday and from 3 p.m. to the time of services Wednesday at the funeral home.

©Cadillac News 2002

A Cavalier's Last Charge

A Cavalry Soldier passed his Sword and Stetson on today.
The flagpole stands at half, the flag flies stoutly with the wind.
His body destroyed from Orange wounds inflicted long ago,
A purple heart still waits to be delivered.

Pass by swiftly into God's hands, for you have suffered more than most.
Your strength in spirit remains with wounded brothers still left behind.
God's shield protected you daily in hostile jungles so long ago,
A purpose and message still needing to be delivered.
The Soldier had a life to live, demonstrate honor was his character and bravery his heart.
The Soldier had new life to create,
The world still benefits from that strength and resolve.
he Soldier had a message to those who doubted his service,
A meaning for those who marched, opposed to his nobility to honor,
A dispatch to the young, to understand the divergent minds of flowered citizens back then.

A Cavalry Soldier stepped off his "Winged Horse" today.
His lips still murmuring, "my battle for freedom made this country strong, freedom to speak and Disagree
with every fiber of our being, yet still be neighbors, friends, and citizens with peace in Its borders. Many
thousands have walked my path to deliver your right to speak freely. Many will still Follow. Honor them as
brothers and sisters of our American family."

A Cavalry Soldier's boots at rest, taps echoed again today.
His troopers stand with heels pressed taut, adorned with glazy eyes,
Flattened hands pushed temple tight, for one's last combat flight.
A Cavalry Soldier died today, his honor forged on infinity's wall.
Remembrance spoke his name for eternity's present roll-call.

Tom Criser
Cavalier Blue India '69
8/5/02 Randy Zahn's New Book
Randy just informed me of the prerelease notification of his upcoming book Snake Pilot. The publication of this eye witness account by this dashing young Air Cavalry officer and his stalwart compatriots is slated for the spring of 2003. It will surely be the highlight of the literary season and a must read for the literate amongst you. Check it out here, there are links to Amazon and Barnes&Nobel so you can reserve your copy. Don't delay, act today.
Cavalier 25, RIP
It's our sad duty to announce the passing of yet another one of our brothers. Cowles C. 'Wally' Waldron, Cavalier 25, '70-'71.
Coles [Cowles] died this past Saturday, July 6th at his home in Brookhaven, New York.

As some of you have known, Coles had been pretty sick the past few years. Coles was sitting at home with a good friend, eating, and happy when he passed away.

For all of you out there Coles "Wally" Waldron was a Cobra pilot "Cavalier 25" , C-troop. 9th Cavalry, Bullwhip Squadron. (thanks, Walker and Big Al!)

Cards may be mailed to

Whitney Waldron Wolanski
80 Elliot Avenue
Lake Grove, NY 11775

No flowers,please

Donations may be sent to:

Elwyn Training Center
111Elwyn Road
Elwyn, Pennsylvania 19063
(610)891-2000
Attn: Brenda Finvcane

Coles grandson Chase has a genetic dsorder and this center has helped Chase.

My husband Jon was Cole's best friend and we would appreciate any memories
or photocopies of Wally sent to us so we may surprise Whitney with a memory book.
Our address is :

The Annis family
308 South Elmwood Avenue
Oak PArk,Illinois 60302
Phone 708-386-2957
Fax 708-386-2995
email drjba@aol.com

Thank you all so much.
Well Done Troop
Well, the move to our new internet provider is complete with a minimum of hassle. We have twice as much space to fill now so everyone get busy in your closets and basements digging out your memories to share. There probably are some glitches I haven't found so please let me know if you run across any problems moving around the site. Don't forget to bookmark the new address.
I've had folks tell me how much they liked my site or I've seen email telling someone to check on Jacks site. This is not my site, the only thing on this site that is mine are a few photographs. This is Charlie Troop, 1/9th Cavs site which means each and every one of you who have made contributions to it in one way or another. It's photos, stories, old orders, Cav newspapers, other interesting tidbits or making yourselves available to answer questions. Just like in RVN it takes all of us to make a successful team.
In addition to all those who have made contributions of material I would like to thank those of you who sent checks to cover the costs of moving the site to roomier digs. The following people (in no particular order) sent me donations. (It should be noted that many other people wrote to ask about it and since we had more than enough to cover this years costs I suggested they make donations to cover the expenses that will be incurred in Vegas):
Harvey Hopkins, Bob Nields, Galen Rosher, Jan Janus, John Sacca, Dan Wardzala, Gary Pope, Jim Hohman, Craton Morris, Bob Bradley, Jeff Libby, Jim Kurtz, Don Armstrong, Paul Hart, Nate Shaffer, John Powell John Mackel, Mike Boisseau, Bob LeMaster, Cecil Shrader, Mike DeRhone, Bruce Campbell.
If I have forgotten anyone it is not through lack of appreciation but sloppy work habits (see if I cashed the check, ha.)
God Bless us one and all. We Can---We Will
Jack Schwarz
Web Site Orderly
Call to Fiddlers Green
We are sad to report the passing of another Charlie Trooper. WO (ret.WO4) Gary B. Hayes, 'Thirsty 37', Lift pilot, 1965-66, who succumbed to cancer 15 February 2002.
This is his obituary as it appeared in the Springfield (MO) News-Leader:
Gary Bill Hayes, 61, Nixa, passed away Friday, February 15, 2002 in his home. He was born July 27, 1940 in Marshall, Mo., the son of Harry and Marie (McKenna) Hayes.

On October 12, 1963 he and Velda Mae Eckhoff were married. He served his country in the Vietnam War and was a member of the Missouri National Gaurd. He was an instructor pilot and and also worked as a safety inspector for the State of Missouri, and a as a pilot for the Missouri Highway Patrol. Gary was a wonderful husband and father to his girls and was loved by all those who knew him. He was a member of Family of Christ Lutheran Church in Nixa. Survivors include his wife, Velda, "Pete" Hayes; three daughters, Lisa Hayes, Kansas City, Kim Abbott and her husband Thomas Martin Abbott, Jefferson City, and Jana Hayes, St. Louis; his mother, Marie Hayes, presently residing at Christian Health Care of Nixa; two grandchildren, Randi and Megan Abbott; a brother, Paul Curtis Hayes, San Diego, Calif.; and a sister, Carolyn Sue Kehl, Lake Arrowhead, Calif He was preceded in death by his father and two brothers, Elwood Hayes and Dennis Hayes.

Funeral services will be at 10 a.m. Tuesday, February 19, in Family of Christ LutheranChurch, Nixa, with Pastor Dale Bond officiating. Burial with military honors will follow in Missouri Veterans Cemetery. Visitation will be from 3 to5 p.m. Monday, in Adams Funeral Home, Nixa. Memorial donations may be made to the American Cancer Society.
May he find rest with the Lord and his other fallen comrades.
We regret to inform you of the passing of Capt. Enn I. Tietenberg (Ret. Col.) in October 2001. Captain Tietenburg was the Lift section leader and Executive Officer from September 1969 thru 1970. His obituary appears below.
ENN I. TIETENBERG, 65, of Golden died Oct. 16. Services were Oct. 20. Mr. Tietenberg was born in Tallinn, Estonia, on Jan. 22, 1936. He married Margaret Carter, 1968. He was a retired Army colonel and project manager for Rocky Flats. Survivors include his wife; sister Eda Homan of Boulder.
May he rest easy with his comrades.