Galen, Randy and Brians Discovery Tour
October 2005
Day 3 TayNinh

---
I guess I should introduce our crew at some point. Rick Okie is our Executive Director. Rick wrote and/or produced Magnum, PI, Major Dad, Witchblade, KnightRider and others. Mark Morris is the A cameraman and he has been shooting for 30+ years. Dean Butler is camera B. Dean played Almanzo Wilder opposite Melissa Gilbert's Laura on Little House on the Prairie. Tony Smyles is the audio guy and a fine one at that. Then there is John Moranville, the guy is a hoot. He used to produce MacGyver and worked on Hotel, Dynasty, The Love Boat and others but the thing I envy about John is that he used to date Heather Locklear when she was in TJ Hooker! Bill Howard is the guy at Discovery Channel who will be in trouble if our efforts aren't on the air on December 16!
OK, where was I? We spent last night in a very nice government guest house at Dong Xoai. It was very comfortable and had the first air conditioned restaurant we've seen yet.
After breakfast we left to head further west to Tay Ninh. We stopped to shoot some footage amongst the locals along what might be considered a country lane. They are curious about our presence and the sight of the cameras and sound equipment. Once we finished we were off again driving along paved roads through rice paddies and the endless miles of rubber trees. We stopped on the way to take some pictures of an American Bailey bridge over the cleanest river I have seen in country. Then we stopped in a rubber plantation to shoot amongst the trees. It is incredible, the straight rows of trees, the fact that there is no ground cover is not lost when you consider the sun can't penetrate the thick dark green foliage of these trees. It is cool and dark amongst the as we walk amongst them.
A little while later we arrive at the airstrip of what used to be Dau Tieng. Actually, it still is but you wouldn't know it. It too has become a provincial capital of over 100,000 people! I landed on this airfield a few times in 1970. It used to be a rearm and refuel point. Before that it was a base for the 1st Infantry Division and later the 1/5th Cav.
After lunch we continued our journey and soon the Razorbacks came into view. This isn't a long or very high mountain range but it was a prominent terrain feature for us. After passing the southern edge of the Razorbacks we came upon a large dike that ran for miles. It was built by the Russians shortly after the war ended. We stopped and walked up to the top of the dike and I almost fell over. The entire area west of the Razorbacks is now a lake. Ho Dau Tieng is an enormous body of water that now provides water for Saigon. It was an incredible sight. And then I looked to the west and there, looming in its height was Nui Ba Den, the sinister Black Virgin Mountain.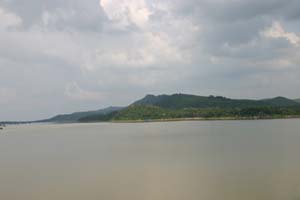 The lake at Dau Tieng. The Razorbacks now form the eastern shoreline!
I remember it as hostile and menacing. A 2,700 foot rugged pile of house sized boulders within triple canopy jungle. And now it is beautiful and majestic. Our next stop is the mountain itself. It is now a park complete with a Disneyland type sky ride about a mile and a half long going up to a large pagoda complex about half way up the southeast face of the mountain. As we ascended in our individual cars over triple canopy jungle with music piped into the trees the view became one I was comfortable and familiar with, Vietnam from 1,500.' It is very hard for me to think about what took place here all those years ago. It is now a country of immense beauty, rubber plantations, cashew plantations, rice paddies, jungle and lakes. It is a different place.
There are three ways to descend from the temples, you can walk back down along trails, across bridges and streams; you can take the cable cars we came up on or you can ride down an Alpine slide! A luge style stainless steel track snaking down the mountain. We already are taking bets as to who can make it down the fastest but are disappointed to find that it has closed for the day. Back on the cable cars we glide over a family of monkeys frolicking in the trees. The sun sets to our west with a fire red ball descending over the horizon. Another day is done.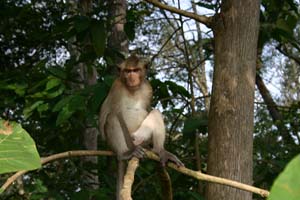 Cavalier Monks Grandson??
---
Go to Page
1 | 2 | 3 | 4 | 5 | 6 | 7