Galen, Randy and Brians Discovery Tour
October 2005
Day 5 The Mekong and Snoopy's Nose

---
I woke up at about 0440 and got ready for the day. Today was going to be different from any other I had spent in Vietnam, then or now. We were boarding boats to go down the Mekong River to find a tributary that led to an area the brown water riverine navy used to call Snoopy's Nose.
Here on September 15, 1967 the VC ambushed a riverine force in a classic L shaped ambush and inflicted the heaviest losses the Navy had sustained to date in the Vietnam conflict. Stan Broda, one of our group, was a 20 year old boat engineer on the second boat that day. The VC let the first boat through before hitting Stan's boat with 5 RPG's. His crew only lost one man in the mahem that followed.
The highlight of this visit for me was that, evidently, the VC used to post VC flags on the trees in this area to warn, to brag and to antagonize. Today Stan walked down a trail along the tributary, found a tree and proudly, defiantly and emotionally pinned his unit crest upon it. It was an emotional moment for us all. Dr. Sandy Cochran, a historian with the National War College and one of our fellow returnees described the action that day. It is amazing that anybody survived the ambush.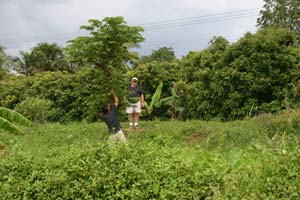 Stan Broda pinning his unit crest of the tree at Snoopy's Nose
While we were there, far off the beaten tourist path, some of the local villagers hooked some coconuts to provide us with some fresh coconut milk. I walked down the trail to the village to watch and the people became very excited by my presence. They, like everybody else we have met since returning to Vietam, were gracious and friendly.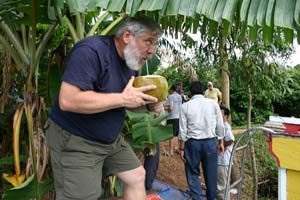 Brian sucks!
Leaving the village and Snoopy's Nose we headed back to the Mekong until we came to a canal recently cut through a long island to get to the River Hau Giang. Once we got there we headed down river to meet the busses for our ride to Can Tho and the four star Victoria Hotel.
This hotel rivals anyplace I have stayed in before, anywhere! It is a beautiful place right on the river with a pool, spas, and all the amenities. I think it was at this point, as we turned into the hotel grounds, that we decided we could have done a year here standing on our heads!
---
Go to Page
1 | 2 | 3 | 4 | 5 | 6 | 7