Galen, Randy and Brians Discovery Tour
October 2005
Day 7 Saigon

---
I guess the first thing that surprises me is that many of the locals still call this city Saigon, instead of Ho Chi Minh City, its official name.
When we arrived a week ago the city was quiet and almost lifeless, but then it was about 0200 when we finally left Tan Son Nhut. Now it is a hub of activity as the eight million plus residents begin their days activities. We load a bus and head out to shoot some scenes in the city.
The first stop is the War Remnants Museum. It is a place that I think all of us were uncomfortable with, American aircraft, artillery, replicas of the infamous ARVN tiger cages where they held and tortured VC and NVA POWs, etc. Much of the information presented, in my opinion, is inaccurate. It is very much a hooray for us type of place. We were happy to leave. The next stop was the Independence Palace, the former Presidential Palace. As we drive through the gates I can still see in my minds eye the T54's crashing through these same gates in 1975. Replicas of the tanks that drove through the gates are on display. I assume the real McCoys are on display somewhere in Hanoi. The grounds are beautiful, well-kept and park-like. It is only now that I stop and reflect and once again ask myself what it was all for? What a tragic waste it all was and the next question I ask myself is what did we learn from our experience in Vietnam? The answer is painfully obvious.....not a damn thing!
Moving on we continue to the Rex Hotel, the place where some people spent their whole year, where the dignitaries and media stayed. The media! Don't even go there.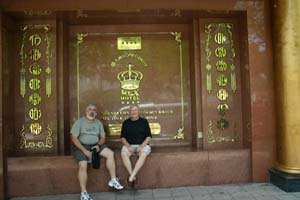 Brian and Galen at the Rex
We take some shots of a group of us walking down the path from a very stylized statue of Ho Chi Minh. We walk with our heads held high, almost defiantly. It is the way we feel. Once we complete the shoot we go to the top of the Rex for lunch. From our elevated vantage point I can see the Caravelle and Continental hotels. All three of these hotels were here during the war years.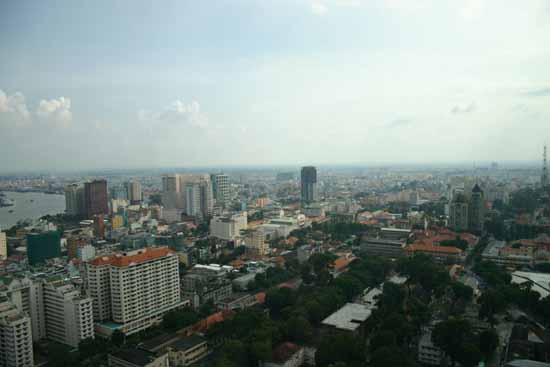 Ho Chi Minh City
The rest of our last day in country is spent shopping, getting massages and walking the streets. None of us felt unsafe or uncomfortable as we walked the streets of this once dangerous city. As I've said before it is a different place. Vietnam has always been a land of contrasts, but none more so than the contrast between 1970 and 2005. 35 years have passed, a. lifetime to many. We have accomplished what we set out to do. Rick got his shots and those of us that he brought back returned to those areas where we laughed and cried and lived and died. For me the ghosts are gone. I got to say my good-byes in places that if I spoke loud enough my fallen brothers could hear me. I saw the places where I fought as a kid and parts of the country that I had never seen. I stood on the mountain, both mountains, and walked in places I never would have dared in 1970 and 71. I came to this place, I was one of the lucky ones who went home and now I have come back. It is now time to go home to Kim, Brent and Kyle and leave Vietnam once again and the ghosts of my past forever.
---
Go to Page
1 | 2 | 3 | 4 | 5 | 6 | 7