Galen, Randy and Brians Discovery Tour
October 2005
Day 4 TraiBe, TienNghon and the Delta

---
It was another early wake-up and after breakfast we boarded the busses. First stop this morning is the massive Cau Dai temple complex, Tay Ninh's own Vatican City. The Cao Dai religion came about in 1926 and has its own army. The temple was here when we were here in 1971 and it survived the war unscathed. We left it alone out of respect for peoples right to worship as they wish and the VC and NVA left it alone because they were afraid of the Cau Dai army. It is a beautiful place with friendly people and monkeys that roam free throughout the complex.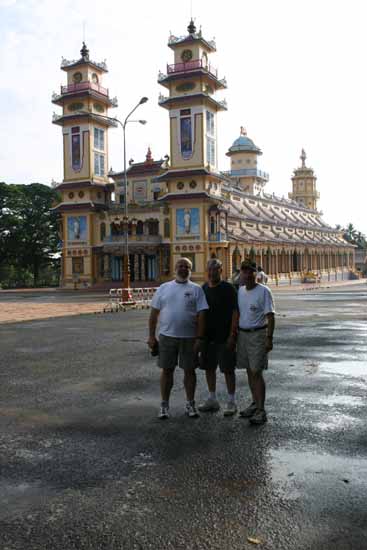 At the Cao Dai Temple, Tay Ninh
A few interviews are shot and then we are back in the busses headed north up highway 13. We drove for about 20 minutes before stopping in front of some peanuts drying in the sun by a small cafe. I am told this is the location of the abandoned Special Forces airstrip at Trai Be. It is completely and totally unrecognizable to Brian and I. We look for anything that could identify this as Trai Be to no avail. As in Dog Dai, there was nobody here during the war and all the people have been relocated here. Locals tell us that this is the place and in front of the cameras Brian and I tell what happened here on December 10, 1971. It was at this spot that an NVA battalion ambushed an ARVN convoy and were subsequently annihilated. Thant, our interpreter tells the curious locals that many years ago many many people died in this place. They get very quiet, almost reverent and look at us with sadness in their eyes.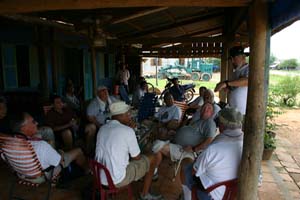 Brian telling the rest of the group what happened at this place on
December 10, 1971. This is the site of the ambush on Hwy
13 next to the abandoned SF camp at Trai Be
We are within three miles of where Van Joyce and Joel Hageman were KIA. Once again, I take the opportunity to offer my final farewell.
Once we wrapped up at Trai Be we continued north to Tien Ngon. I recognized it immediately. We spent a lot of time laagering out of here as we looked for the NVA battalion, elusive until they ambushed the convoy.
| | |
| --- | --- |
| The runway at Tien Ngon | This is the road that we used to park on on the west side of Tien Ngon. It use to be dirt! |
The road we used to land on when we were on standby is now the main entrance to a huge rubber plantation. It is odd being back in these places and remembering, or trying to remember! Before long we are heading back south on Highway 13 to Tay Ninh for lunch. We stop at a popular restaurant that I am told is owned by a women who spent the war years as a VC in the tunnels of Cu Chi.

After lunch we continue south towards the Delta, an area almost completely unfamiliar to me. The only time I spent down here was when we operated out of Nha Be, south of Saigon, to provide security for the city when Vice President Agnew visited. The Delta is completely different from our own AO, flat with flooded rice paddies, water buffalo, and significantly more people than in other parts of the country. There are seven major rivers that run through this area and the commerce down here is amazing. Boats are transportation, places of business and homes to these boat people.

We stopped for a comfort break and to grab a drink at a roadside cafe, for lack of a better term, and while we were here the infamous monsoons hit. The lighting was spectacular, the thunder deafening and the rain came down in buckets. I loved it. If I would have had a bar of soap I might just have gone out and took a shower as I did so many times in the past.

Once the rains let up we continued our days journey until we finally arrived at our destination for the night, the city of Tan An.
---
Go to Page
1 | 2 | 3 | 4 | 5 | 6 | 7