Galen, Randy and Brians Discovery Tour
October 2005
Day 6 CanTho

---
We had another early wake-up this morning before getting back on the boats and going to the floating market in Can Tho. Can Tho was a major base during the war, headquarters of the IV Corp ARVN Division headquarters and a place where we had lots of advisors, but it, like every place else we have visited, has been stripped of anything military.
The floating market is the hub of activity on the river. There must be a thousand boats full of fruits and vegetables, pineapples, cabbages, gourds and then there was the drinks boat zipping around selling bottled water, beer and soft drinks. It was colorful, chaotic and a lot of fun. Our boat crew, a young husband and wife team, were an efficient crew but they should be, they've probably been on the river their entire lives.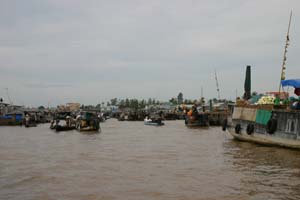 The floating market, Can Tho
The husband, who drove the boat, was evidently not impressed with my hat, a black baseball hat with a Cobra on it. The first time he noticed it he did a triple take and throughout the rest of the trip he would look inconspicuously at it and leer. He is too young to have been alive during the war. Perhaps he has heard stories from his family?
His wife is petite and cute as a button. On the way back she brings out her wares and I modeled a pure silk robe, embroidered on both sides. It is a reversible work of art and priced accordingly for Vietnam, $12! I bought three and soon she was sold out. It was a good day for her!
Getting back to the hotel we repacked and checked out while additional interviews were shot on the grounds. When that was done we went to a local restaurant for lunch. The owner turns out to be a Vietnamese gentleman who was born here, left in 1975 and ended up owning two restaurants in Denver. Just this year he sold them and moved back to his homeland and bought this restaurant. Apparently a lot of Vietnamese are returning. The government is Communist here, but it is hard to tell.
Capitalism is alive and well in the former South, entrepreneurs abound and the people scurry about on their motorcycles like swarming ants. I have to wonder how bad it can be if the people are coming back? I have to ask that in view of what we are seeing what did we accomplish in this place. I would hate to think that 58,000 Americans and countless Vietnamese lost their lives for naught but I fear that is the case.
Four hours back to Saigon for our last night in country. I am not nearly as eager to leave this time as I was in 1971.
---
Go to Page
1 | 2 | 3 | 4 | 5 | 6 | 7